"Wizard of Wonderland" is the sixth episode of the seventh season of Face Off. It first aired on August 26, 2014.
Spotlight Challenge
Challenge: The artists' must reimagine a character from the Wizard of Oz as if the character had fallen down Wonderland's rabbit hole.
| Contestant | Character |
| --- | --- |
| Cig & Damien | Scarecrow |
| Dina & Stella | Winged Monkey |
| Drew & George | Wicked Witch of the West |
| Jason & Sasha | Cowardly Lion |
| Keaghlan & Rachael | Tin Woodman |
Top Looks: Dina & Stella, Keaghlan & Rachael
Bottom Looks: Cig & Damien, Jason & Sasha

Winner: Dina
Eliminated: Jason
Final Looks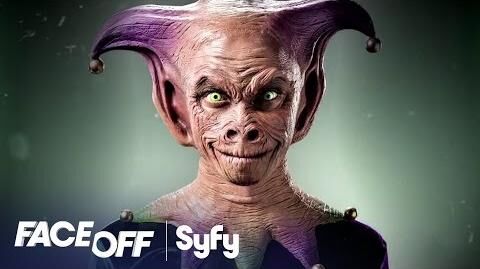 Promotional material
Trivia
This is the second challenge to be based of both Alice's Adventures in Wonderland and The Wonderful Wizard of Oz; the former was first featured in "Alice in Zombieland" (Season 3), the latter "Return to Oz" (Season 2).
Ad blocker interference detected!
Wikia is a free-to-use site that makes money from advertising. We have a modified experience for viewers using ad blockers

Wikia is not accessible if you've made further modifications. Remove the custom ad blocker rule(s) and the page will load as expected.