Tom Devlin

Season 1 contestant
Personal Information
Birthname
Tomantha Devlin
Nickname
Tom
Age
29
Hometown
East Stroudsburg, PA
Residence
Alhambra, CA
Occupation Info
Expertise
Latex / Trauma / Character / Horror / Fantasy
Occupation
Special FX Artist and Mask Maker
Results
Season(s)
Season 1
Placement
6th
Eliminated on
"The Dancing Dead"
Tomantha "Tom" Devlin is a contestant of the first season of Face Off. He placed 6th overall being the second contestant to be eliminated in "The Dancing Dead".
Biography
Tom Devlin grew up in a rural Pennsylvania town, where there was nothing more to do than watch horror movies. Tom's dream was to make the monsters he grew up loving so much. And, like most other make up FX artists, Tom had three goals: Create monsters, work on films and own his own FX shop. At the age of 29, Tom had already achieved all three. Tom is a motivated artist and spends most hours of the day at work. His main focus at the moment is working on independent horror films. He enjoys the freedom the independent film world offers to try new things and explore different opportunities. Tom is his own boss and he is confident enough in his skills to keep it that way. He is also a self-professed slob. He says the word "cleanliness" doesn't exist in his vocabulary.
Season 1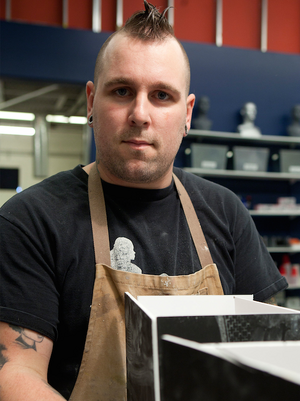 Episode
Placing
1.01
HIGH
1.02
HIGH
1.03
LOW
1.04
WIN
1.05
LOW
1.06
OUT‡
6th
Face Off portfolio
Trivia