"Killer Instinct" is the seventh episode of seventh season of Face Off. It first aired on September 9, 2014.
Foundation Challenge
Challenge: The artists must create their own take on the Bloody Mary.
Rewared: Immunity
Guest Judge: Brigette Myre Ellis

Top Looks: Rachael & Drew
Spotlight Challenge
Challenge: The artists' must choose a movie poster and create the villian from the movie.

Reward: The winning makeup will appear at Universal Studios Halloween Horror Nights along with the winning makeups from past Face Off seasons.
Top Looks: Rachael, Cig & George
Bottom Looks: Dina, Keaghlan & Sasha

Winner: George
Eliminated: No One
Saved: Sasha
Final Looks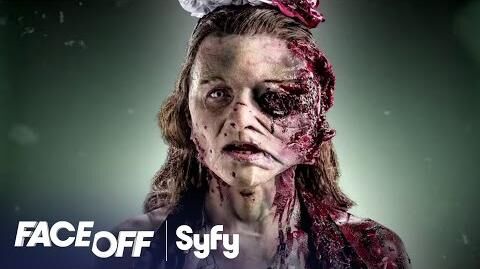 Promotional material
Trivia
The music during the reveals in this episode is different from other episodes.
Ad blocker interference detected!
Wikia is a free-to-use site that makes money from advertising. We have a modified experience for viewers using ad blockers

Wikia is not accessible if you've made further modifications. Remove the custom ad blocker rule(s) and the page will load as expected.