Child's Play

Spotlight Guest Judge: Paul Reubens
Episode Information
Release Date
January 20, 2016
Season #
10
Episode #
02
Results
Top Looks
Mel & Anna; Rob, Johnny, & Melissa
Bottom Looks
Jennifer & Njoroge; Robert & Yvonne
Winner
Mel
Eliminated
Jennifer
Chronology
Previous
Wanted Dead or Alive
Next
Lost Languages
Spotlight Challenge
Challenge: Create whimsical characters based on over-sized children's toys.
Guest Judge: Paul Reubens

Top Looks: Mel & Anna; Rob, Johnny, & Melissa
Bottom Looks: Jennifer & Njoroge; Robert & Yvonne

Winner: Mel
Eliminated: Jennifer
Teams
Toy/Object
Jennifer & Njoroge
Crayons
Kaleb & Katie
Key
Mel & Anna
Watch
Robert & Yvonne
Dice
Walter & Ant
Car
Rob, Johnny, & Melissa
Lollipops
Not Chosen
Blocks
Phone
Jacks
Roller Skate
Spotlight Gallery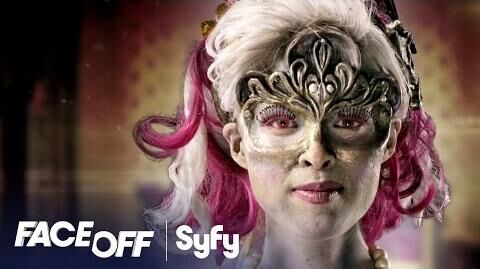 Trivia
Ad blocker interference detected!
Wikia is a free-to-use site that makes money from advertising. We have a modified experience for viewers using ad blockers

Wikia is not accessible if you've made further modifications. Remove the custom ad blocker rule(s) and the page will load as expected.